Residence Permit by family reunion in Cyprus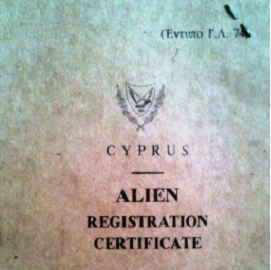 Residence permission in Cyprus
for parent of a Cypriot citizen
The Parent of a Cypriot citizen, i.e. the mother or father of a child with one of the parents being Cypriot who has divorced the Cypriot spouse has the right of staying and working in Cyprus.
Also the parent of a Cypriot citizen (being the parent of a Cypriot under any circumstances) has the right of stay.
An application has to be made in person (by both parents) at the immigration office of the District where the parent resides and the following must be presented:
(a) Completed M61 form to provide temporary residence permit as visitor.
(b) Complete M.64 form, alien employment record signed and stamped by the employer and a reference letter from the employer stating the employment date and the salary amount.
(c) Proof of registration at the Social Insurance Fund, in case of self-employee alien.
(d) Proof of payment of Social Insurance.
(e) Original of Birth Certificate for the Minor, in which the Cypriot parent is indicated.
(f) Copy of valid passport.
(g) Original of a valid temporary residence permit for alien spouse (parent).
(h) Adequate living resources for the Cypriot parent (Bank statements and salary statements from Social Insurance Fund).
(i) Copy of ARC.
(j) Copy of medical insurance.
(k) Copy of title deed for residence or lease agreement.
(l) Fees €50 +€70 for ARC (where applicable).
application for parent of a Cypriot citizen
Our company is offering immigration consulting services for our clients in Cyprus, please feel free to contact us at any time
Ref. No.: permit1

Send this to a friend
Enquiry form
Send this to a friend